Concrete Resurfacing
With today's advancements in polymer modified concrete overlays, there is no need to tear up and replace, unsightly, damaged concrete.

ColorMix Concrete specializes in resurfacing your existing concrete floor, patio, or driveway with one of our engineered concrete overlay systems.

Cement-based overlays blend polymer resins with cement, sand, and other additives to improve performance, wear resistance an aesthetic qualities. Polymer modified overlays can be applied in layers as thin as a credit card or up to several inches thick without delamination or failing. They adhere mechanically and chemically to existing concrete flooring surfaces and resist damage from UV exposure, chemicals, moisture and abrasion.

Allowing the designer the ability to create an original piece of work, overlays can open the door to unlimited design potential. So wether you are looking to repair your existing concrete or simply improve the look of a dull, grey slab, let ColorMix Concrete choose a system that is right for you.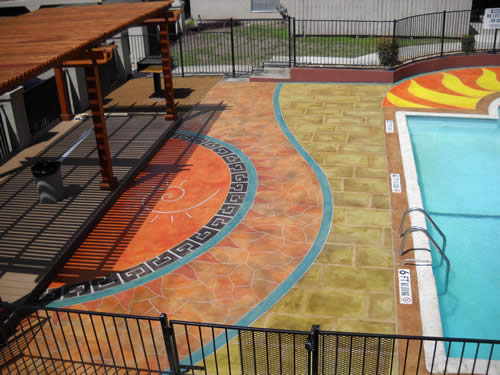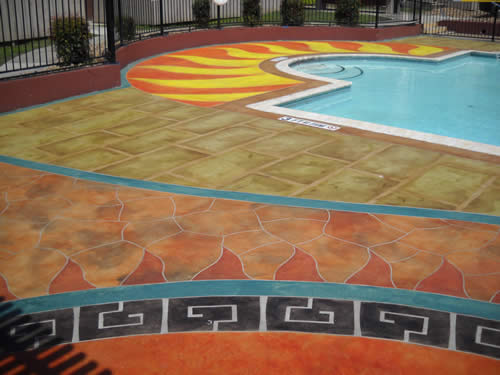 Thin Stamped Overlays
One of the most popular decorative concrete applications, polymer modified concrete is applied 3/8 inches thick over existing concrete and then imprinted with stamping mats to mimic the look of stone, slate, tile, or wood. This application can be integrally colored, dyed, or acid-stained. Learn more about stamped overlays...
Trowel Down Slate Finish
These applications lack the depth and authenticity of thin stamped overlays, but the hand troweled finish creates interesting variations and texturing that rival the look of slate at a fraction of the cost.
Basic Resurfacing
Itergal colored, polymer modified concrete is applied using a squeegee in two thin coats. Once applied, this application can be acid stained, colored, dyed, or scored to achieve your desired look or pattern.