Stamped Concrete Overlays
It is possible to achieve the same beauty, elegance and natural appearance of regular stamped concrete without the need for removal and replacement of the existing surface.
Stamped Overlays are durable, flexible and versatile making it a perfect application for interiors or exteriors.
Benefits of Stamped Overlays:
Stamped Overlays are applied 1/4 inch thick.
The overlay can be stamped with a variety of tools including patterned mats, texture skins, or patterned rollers.
After drying, the stamped overlay can be stained or colored to produce your desired effect.
A pattern or texture can be stamped to resemble marble, tile, slate, brick, stone at a fraction of the cost. Integral colors, antiquing techniques, acid stains, and scoring tools are used to achieve the desired look.
Innovative custom looks and decorative patterns are just an imagination away! Let ColorMix Concrete design your stamped overlay job in Plano, Frisco, Southlake, or any surrounding Dallas, TX area.
Stamped overlays provides a surface that is not only twice the strength of standard concrete, but is highly flexible as well. Learn more about stamped overlays...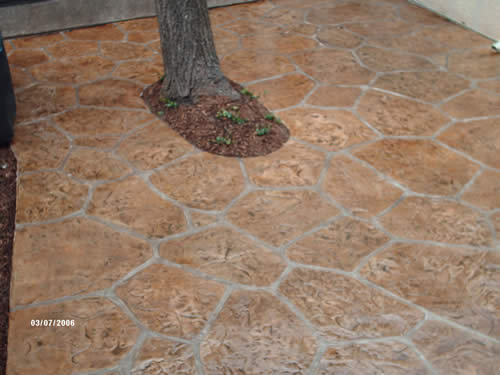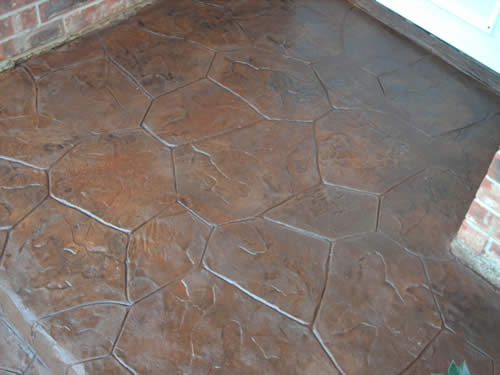 Stamp patterns
| | | | | |
| --- | --- | --- | --- | --- |
| | | | | |
| garden stone | river rock | ashlar slate | old slate | |
| | | | |
| --- | --- | --- | --- |
| | | | |
| Italian Tile | European Fan | Flagstone | Wood Plank |